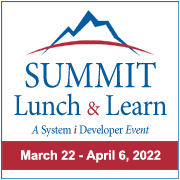 Lunch and Learn April 2022
Lunch and Learn April 2022
Join us to learn how ARCAD will help Developers quickly modernize code, enhance the development process with code quality reviews and security flaw checks, and automate unit testing. In this session we will discuss and demonstrate:
– The benefits derived by modernizing RPG to free-format and the simple process to convert code in seconds.
– Once modernized, ensure coding best practice. For example, identify insecure code, such as SQL Injections, and reduce risk.
– Automated unit testing for easy validation of functionality.
– The ease of integrating this into your current DevSecOps or traditional ALM process.
– Where to download these standalone products for a free trial.