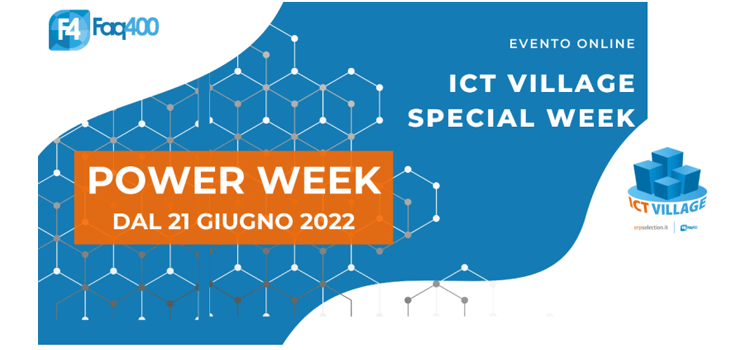 Power Week 2022
21 June 2022 @ 09:00

-

19:00
Commun Europe 2022
POWER WEEK is the online meeting of the Faq400 Community for the ICT Village – Special Week.
A digital event conceived and organized by the Faq400 Community for POWER, with the support of ERP Selection and the patronage of various Associations and Companies.
Different topics will be covered during the event: Cloud, CyberSecurity, High Avaliability, Modernization, Integration, ERP, CRM, BI, Analytics, Big Data and much more.
Agenda:
• Opening Session: Round-table with the speakers of the Live-Webinars and the sponsors.
• Two live Webinars every day during the event, one in the morning at 11:00 and another one in the afternoon at 16:00 (CEST).
During this event you can meet Philippe Magne – CEO and Chairman ARCAD Software, presenting " DevSecOps on IBM i – now and into the future ".
So don't miss our session on Tuesday 21,  at 11:00 (CEST).
This online meeting has been opened on LinkedIn entitled: ICT Village – Special Week POWER Edition.
We will explore the now and the future of DevSecOps on IBM i, addressing key questions such as:
What are the trends in DevSecOps and specific challenges on IBM i?
What are the different routes to DevSecOps maturity?
How to harmonize DevOps techniques across IBM i and distributed systems?
How to leverage new hybrid and multi-cloud options?
How to use Value Stream Management (VSM) techniques to tune your DevOps flow?
Learn the upcoming trends in DevSecOps on IBM i and how to plot a progressive path that combines the best of the traditional methods and the new open source options.