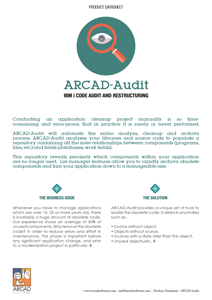 When managing applications that are over 10 or 20 years old, it is very likely that you will find a huge amount of obsolete code. According to the statistics, 50% of the code would be unused. Before any significant application change or modernization project, it would be useful to get rid of this superfluous code.
ARCAD-Audit will automate the entire analysis, cleanup and archive process. ARCAD-Audit analyzes your libraries and source code to populate a repository containing all the inter-relationships between components (programs, files, etc.) and fields (databases, work fields).
Download this datasheet and learn more about ARCAD Audit and how it will help to clean up your code.
Optimize maintenance effort and cost

Archive obsolete components automatically

Detect and correct typical anomalies in legacy IBM i source code
Discover ARCAD Audit features