DevOps Transformation:
Engage your IBM i teams
White Paper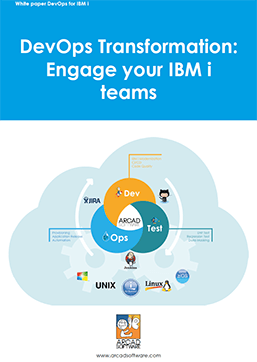 This white paper is intended for those who influence IBM i DevOps maturity and success in the enterprise. It gives an update on the key factors affecting DevOps maturity from an IBM i perspective. It describes the barriers to DevOps maturity and how ARCAD tools can be used to help you eliminate them.
Bridge the 'generation gap' on IBM i using industry-standard tools such as Git, Jenkins and Jira

Secure your IBM i applications with an automated, end-to-end DevSecOps cycle

Facilitate collaboration between experienced RPG/COBOL developers and new developers just arriving on IBM i
"Most enterprises already know the limitations of traditional waterfall based development models but the challenge now is to move all IBM i development to DevOps in a safe, non disruptive way" – Philippe Magne, ARCAD Software
Implementing a DevOps strategy on IBM i? Read our White Paper!