Dutel saves 30% in application maintenance, by converting CA 2E Synon to RPG Free
The Customer
Created in 1937 by Jean and Marcel Dutel, Dutel S.A.S. is a world leader in Jacquard weaving. Designs are created from its head office near Lyon in eastern France, then woven in the Loire to be delivered nationally or exported to more than 70 countries around the world.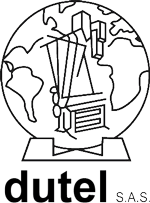 Context
All applications in the Dutel group have been developed exclusively using CA 2E Synon over DDS. A turning point came in 2015 with the imminent retirement of key staff, future cost of Synon upgrade, and difficulty finding Synon skills.
Solution
Dutel seized the opportunity of automatically converting their Synon applications to RPG free using ARCAD Modernization as a Service, saving them 30% in maintenance costs.
Case Study Highlights
Company: Dutel S.A.S.
Industry:  Textile
Characteristics: Dutel applications are developed in house in Synon
Challenge: future cost of upgrading Synon to the newest version, imminent retirement of key staff, lack of Synon skills for ongoing maintenance of the system
Solutions: ARCAD Modernization as a Service (MaaS)
W

e seized the opportunity of migrating our IBM i applications and set up a strategy which will allow us to maintain and improve our systems for the next 15 / 20 years