Enterprise DevOps
White Paper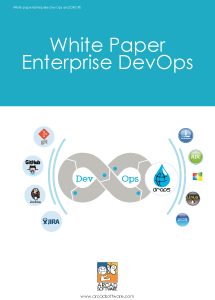 DevOps is an organizational change that depends on automated, tool-based collaboration between all actors in a software project: from developers, to testers, operations and end-users. Enterprise DevOps is the adoption of a DevOps style culture within an established enterprise. DevOps is a lot easier to adopt in a startup business where applications are created from scratch and where no legacy infrastructure exists. Arcad have decades of experience with enterprises using legacy IBM i and z/OS systems and understand what it takes to transition legacy development into to modern DevOps.
Download this datasheet designed for enterprise information technology managers and architects looking to adopt DevOps in an enterprise context.
Many DROPS plugins provide powerful enterprise-grade DevOps capabilities for IBM i and z/OS.