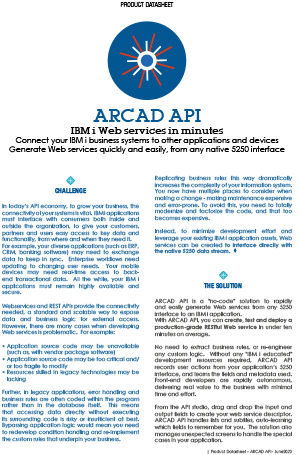 IBM i applications must interface with consumers both inside and outside the organization, to give your customers, partners and users easy access to key data and functionality, from where and when they need it. Web services and REST APIs provide the connectivity needed, a standard and scalable way to expose data and business logic for external access. However, there are many cases when developing Web services is problematic.
Thanks to ARCAD API, a "no-code" solution, you'll be able to rapidly and easily generate Web services from any 5250 interface to an IBM i application.
Download this datasheet and discover how in least than 10 minutes on average with ARCAD API, you can create, test and deploy a production-grade RESTful Web service.
Connect your IBM i business systems to other applications and devices

Sync your IBM i data with other enterprise applications (ERP, CRM, banking software, …)

Compatible with any API gateway (e.g. Kong, Axway Amplify, Apigee, Mulesoft)
Discover ARCAD API features