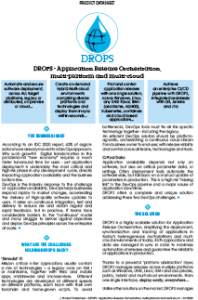 DevOps is the industry response to the challenge of application availability. DevOps helps businesses respond rapidly to market changes, accelerating the delivery of high-quality software updates to users. But in practice, IT teams face considerable barriers to the "continuous" model and many struggle to deliver against objectives and deploy DevOps principles across the enterprise at scale.
DROPS is a highly scalable solution for Application Release Orchestration, simplifying the deployment, synchronization and tracking of applications in today's heterogeneous multi-platform and multicloud environments.
Download this datasheet to learn more about DROPS and discover why DROPS offers a complete and unique solution adressing DevOps challenges.
No 'vendor lock-in': extend DROPS with your chosen technologies, languages and tools

Automated rollback: return to a previous stable version of your application, in a single click

Integrate DROPS via open REST APIs